QSDS 2017 Teachers
Esterita Austin
Port Jefferson Sta, NY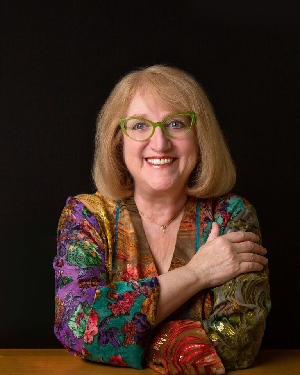 Internationally award winning quilt maker, designer and teacher, Esterita Austin is known for her portraiture and stone series as well as her innovative paint transfer technique onto sheers.
Esterita attended the Universita de Siena, in Siena, Italy and State University College of New York at Buffalo where she received a Bachelor of Science in art education. From there, she worked toward an MFA in graphic arts from Pratt Institute. She went on to become an art teacher in Smithtown, New York. For nine years she taught art to middle school and high school students.
Her quilt "The Well" was a prize winning piece in the NYC American museum of Folk Art's international competition. Her work has been published in numerous periodicals and books. Esterita teaches nationally as well as internationally. She has taught in Spain, England, Ireland, Switzerland, Isreal, Australia, the west Indies, Canada and Italy. One of her international venues is a yearly workshop every September in the hills of Tuscany, which features; art quilting, painting and cooking workshops as well as tours to Siena and Florence.
The use of textural and dimensional imagery has given Esterita's work a unique style. She brings creative energy to her workshops, stimulating the imagination and invigorating the soul.
Classes:
14. Luminous Layered Mono Printing with Organza (Session 3)
21. Luminescent Painted Illusions (Session 4)
---
Sue Benner
Dallas, Texas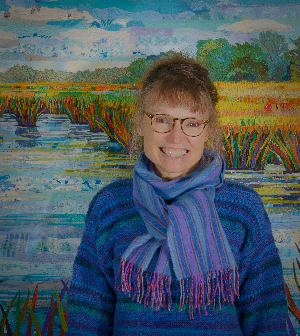 With a career in textile art now spanning decades, Dallas artist Sue Benner, is recognized nationally and internationally for a body of artwork she creates that is drenched in color and laced with texture. Melding former lives as lover of science (B.S., Molecular Biology; M.A., Biomedical Illustration) and recreational seamstress (Barbie Doll and human scale clothing), Sue Benner creates richly layered textile canvases by fusing (literally) her own dyed, painted, and printed silks with found fabrics rescued from the obscurity of closets, attics and thrift stores.

Her art quilts have been featured in numerous exhibitions and publications. A respected educator, Benner lectures and teaches workshops internationally in surface design, textile collage, fused quilt construction, and artistic inspiration.
Classes:
1. Expressive Dye Painting and Printing 1 (Session 1) FULL
7. Expressive Dye Painting and Printing: Independent Study (Session 2)
---
Lisa Binkley
Madison, WI
Lisa Binkley holds a B.S. in Textiles & Design and a Master's in Urban Planning. Formerly a public policy analyst, she established her fiber art studio in 2000. Lisa teaches and exhibits her award-winning artwork nationwide. Her work has been selected for inclusion in major exhibitions including American Quilters' Society, International Quilt Association, Crafts National, CraftForms, museum exhibitions, and Wisconsin Artists' Biennia. Lisa and her artwork have been featured on local and national television, in internationally-distributed books and magazines, and in many local publications. Her art is represented in private and corporate collections. Lisa enjoys sharing her passion for fiber and beads through her artwork, classes, and lectures. She lives in Madison, Wisconsin with her husband, their two children, and their large, furry dog (who is continuously contributing fibers to Lisa's studio).
Class:
15. Embellish Your Art Quilt (Session 3)
22. The Circle Game (In Bead Embroidery) (Session 3)
---
Betty Busby
Albuquerque, NM
After graduating from the Rhode Island School of Design with a ceramics major, Betty Busby founded a custom ceramic tile manufacturing firm in Los Angeles. After nearly 20 years of running the firm, she sold the business in 1994 (it is still in operation to this day). Upon relocating to New Mexico, she changed the focus of her art work to fiber, taking it full time in 2004.
Her manufacturing background has lead to constant experimentation with new materials and techniques that fuel her work.
The classic fractal structures of the sub microscopic world are a constant inspiration, as are natural processes, such as oxidation, replication and growth.
Check out these videos to learn more about Betty and her work:
Classes:
2. Multi Media Design (Session 1)
8. New Techniques in Painting (Session 2)
---
Jiyoung Chung
Providence, RI
Jiyoung Chung is a Joomchi artist, painter and freelance writer who shows her works nationally and internationally. She has developed an innovative method for utilizing a traditional Korean method of papermaking called Joomchi into contemporary art form.
Jiyoung (B.F.A., Painting from RISD, and M.F.A., Print/Media from Cranbrook Academy of Art) has had numerous solo shows (31 times) in Korea, U.S.A., Australia, France, Finland, and UK. In 2010, she curated the Int'l Korean/ American Joomchi show for European Patchwork Meeting in France, later toured in Korea(2010, 2011) and USA(2012, 2015). She authored a How-to-Do book titled "Joomchi & Beyond She was awarded several times; including 'Silver Prize', The 8th Cheonggju International Craft Competition, Korea(2013), 'Adrianna Farrelli Prize, Excellence in Fiber Art', Philadelphia Museum of Art Craft Show, PA(2012), 'American Craft Councile Baltimore Award of Excellence', American Craft Council Baltimore Craft Show, MD(2012). Her works are in the permanent collections of Fidelity Corporate Art Collection, Boston and Museum of Art & Design, NY.
*JOOMCHI is the unique Korean traditional way of making textured and painterly imagery handmade paper just by using water. The terminology originated from meaning, "making a Joomoney (Pouch in English)". It creates strong, textural, and painterly surfaces. As time goes, the surface becomes more and more elegant like leather. It can be applied to make self-standing or suspended sculpture, new way of creating painting, surface design, collage making, drawing as well as functional daily life objects like basket, lamp, purse making, etc.
Classes:
3. Joomchi and Beyond (Session 1)
9. Joomchi Weekend (Session 2)
---
Rosalie Dace
Durbin, South Africa
Rosalie has a background in art and education, and finds exhibiting, teaching, and judging quiltmaking combine her interests admirably.
She has taught and exhibited internationally, and was nominated for the Professional Quilter magazine's "Teacher of the Year."

Classes:
4./10. Independent Study (7 days) (Session 1 and 2)
16.Positively Line and Shape (Session 3)
23. Dizzy Circles (Session 4) (Closed)
---
Alice Frenz
Columbus, OH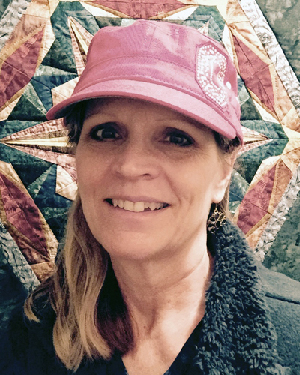 Alice has been teaching creative design, color and composition courses in the B.F.A. program at CCAD for 30 years. Incorporation of digital techniques with traditional media and creative design fundamentals has been the focus of her teaching and studio work throughout her career. Digital skills acquired as a freelance graphic and web designer have led her to explore new ways of combining digital technology with her lifetime love of designing and creating with fabric and fiber. Alice developed and teaches CCAD's Pattern Design: Digital and Surface course. Her designs for digitally printed fabric are on Spoonflower: http://www.spoonflower.com/profiles/alicefrenz
Blog: https://fiberandpixels.wordpress.com/category/pattern-design/
Classes:
5. Designing Digital Fabric (Session 1) (Closed)
---
Becky Hancock
Cold Spring, KY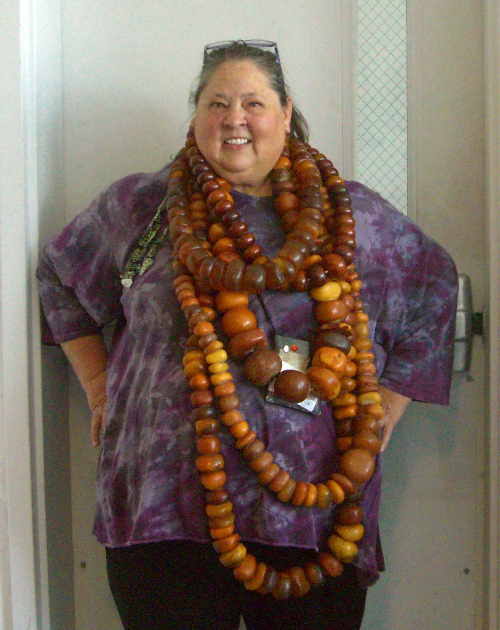 Grew up in Cold Spring , Ky.
Earned a BS in Therapuetic Recreation from ASU in '76.
Owned and operated St Theresa Textile Trove since 1994.
Classes:
11. Beadify Your Universe (Session 2)
---
Judy Hooworth
Morisset, Australia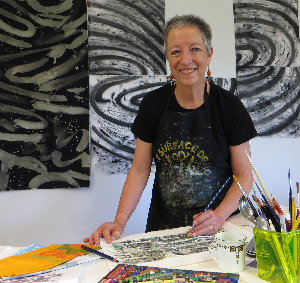 Judy's been creating art quilts for more than 30 years. The natural environment near her home inspires her latest quilts, incorporating hand painted, discharged and embellished fabrics which are extensively machine quilted.A well known tutor, author, lecturer and judge, Judy has shared her expertise with students around the world. She has exhibited widely in Australia and overseas and her quilts have been featured in many books and magazines. She is the author of three books on contemporary quilt making. Judy is represented in public and private collections in Australia, UK and USA including the Powerhouse Museum Sydney, and the Museum of Arts and Design in NY. She was awarded the Quilters' Guild NSW Study Scholarship 1994, a Professional Development Grant from the Visual Arts/ Craft Fund of the Australia Council 1995.In 2102 Judy was presented with the Rajah Award for her outstanding contribution to Australian quilting. She has been selected for Quilt National six times and in 2015 her quilt Rainy Day Dora Creek #13 won Best of Show at Quilts=Art=Quilts at the Schweinfurth Art Museum.
Classes:
17. Independent Study (5 day) (Session 3)
---
Leslie Tucker Jenison
San Antonio , TX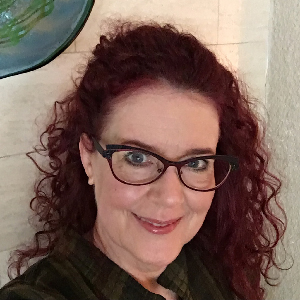 Leslie Tucker Jenison is an award-winning artist from San Antonio TX who loves the tactile experience of working with cloth and paper. She uses dye, paint, photography, thread, and a variety of other wacky stuff to make marks. Her work has been included in numerous books and she has written articles for a number of quilting magazines. Her workshop dvd, "DIY Surface Design", was produced by Interweave. She curates exhibitions and teaches as one half of Dinner At Eight Artists along with Jamie Fingal. When she is not in her studio Leslie loves to travel and is a gardener and cook.
Classes:
18.DIY Mark-Making On Cloth & Paper (Session 3) (Closed)
24.Wax On-Wax Off (Session 4) (Closed)
---
Diane Muse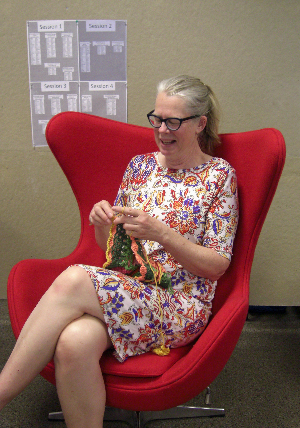 Diane did a lot of crazy, free form crochet in the 70s. Recently she started making baby blankets for her daughter and a lot of her friends. After many color variations using a simple zigzag pattern, she started working with different motifs and joining methods and remembered how creative, bold and fun crochet can be!
Classes:
12. Crochet Extravaganza (Session 2) (Closed)
---
Pat Pauly
Rochester, NY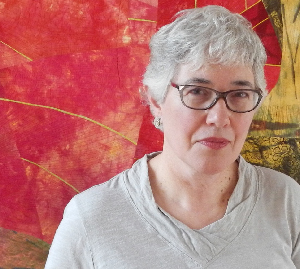 A textile artist since 1981, Pat Pauly's work is recognized for her improvisational technique, and which features strong, graphic color. Creating works that evoke natural forms that remain abstract, Pat Pauly often uses her tool kit of surface design techniques. Her workshops on contemporary art quilts carry the same qualities as her work - energized, spontaneous, and definitive. Pat is a frequent lecturer on the relationship of traditional quilts to contemporary works, and curates exhibitions of art quilts. Pauly's workshops focus on design, color theory, construction, as well as when to apply the rules, and when to toss them out.
Pat has appeared on as a featured artist on Quilting Arts TV, and is published in numerous publications. Her DVD "Abstract Art Quilt Design" is available from Quilting Arts. Pat Pauly exhibits internationally and her work is in private and corporate collections.

Classes:
19. The Play's The Thing: Improv Sketches (Session 3)
25. Slash and Burn: Techniques for Improvisational Design (Session 4)
---
Susan Shie
Wooster, Ohio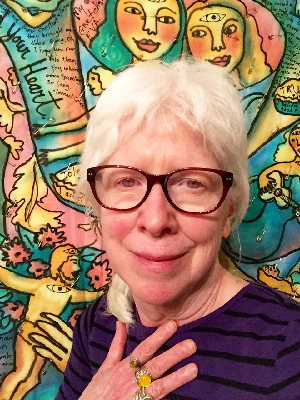 I've been drawing, painting, writing, and sewing since I was little. When I grew up, I began slowly to combine all of these things I love to do, as a very conscious feminist decision: to be a Woman Artist. My BA in Painting, from The College of Wooster and my MFA in Painting from Kent State University School of Art both helped me create my own unique style with my art, but I don't expect your work to look like mine. I began teaching drawing in college in 1981, and I've been showing and teaching art quilting professionally since 1986. My home studio weeklong classes began in 1994, and I started teaching drawing online in January, 2016. I am delighted to bring this same class structure to my QSDS classes, where I've taught since 1991.
Class:
6. Lucky Drawing: Freehand Sketchbook 5 Day (Session 1)
13. Lucky Drawing: Freehand Sketchbook 2 Day (Session 2)
---
Kevin Womack
Forest, VA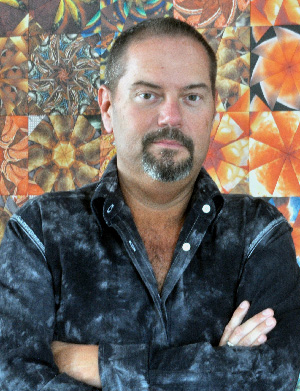 Kevin Womack is a textile artist living in Lynchburg, Virginia. While majoring in the sciences at James Madison University, he satisfied his strong interest in the arts by including several elective art courses as part of his studies. Kevin earned his bachelor's degree in Computer Science and went to work in the IT field. He continued his artist pursuits, exploring photography, metals/jewelry, pottery and oil painting in community art classes.

In 1986, Kevin was introduced to quilting by his maternal grandmother. Having always loved the legacy of family quilts, he decided to have her teach him the tradition. While his interest in other media has waned, his passion for fiber has endured.

Over the years, Kevin studied with many accomplished textile artists and developed a love for hand dyeing and patterning fabrics with surface design techniques. His experiments produce a line of unique fabrics and clothing that he exhibits and sells.
Kevin's artwork and quilts have been exhibited at several local and regional shows. His recent collaborative work with artist Eleanor McCain was selected for inclusion in the Quilt National '13 exhibition and Quilt Visions Biennial 2014. In addition to his fabric business, Kevin teaches and lectures nationally.
Class:
20. Depths Of Dyeing (Session 3)
26. Playing With Fabric Paints (Session 4)