QSDS 2021 Teachers
Rosalie Dace
Durbin, South Africa
I am obsessed with light and color, loving the rich contrasts resulting from the juxtaposition of cottons, silks, velvets, brocade, and sheers. I love traditional quilts, but want my quilts to say something about their time and place in history and come directly from my life.
As a teacher and artist, my aim is to fill my students with confidence and the excitement I feel about creating art in fabric and fiber. I aim to guide them in the direction of their interest in a non-threatening supportive environment, so that they create more than they thought possible.
Artist Website: rosaliedace.co.za
Class:
2./8. Independent Study (7 days) (Session 1 and Session 2)
15. Earth, Wind, and Fire (Session 3)
21. Slow Stitch Satisfaction (Session 4)
---
Deborah Fell
Urbana, IL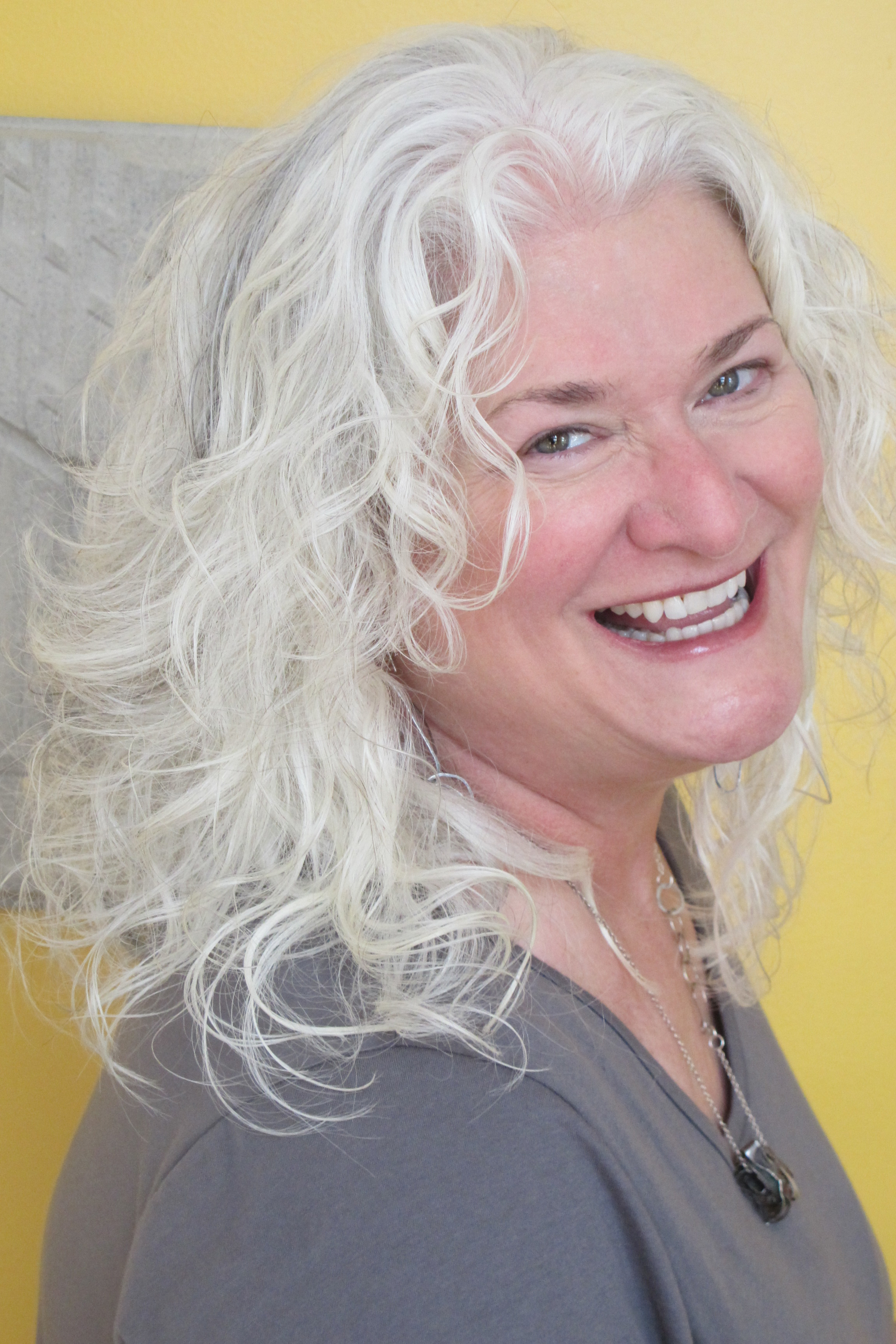 Deborah Fell is a full time studio artist committed to the quilt medium. She is a professional member of the Studio Art Quilt Associates and Art Quilt Network. Deborah's art focuses on abstract, organic shapes while using surface treatment such as dyeing fabric, photography, and hand stitching and reclaimed materials. Deborah has been a professional educator for over 30 years. Besides teaching at risk high school students in a public high school setting, obtained a Master's degree from Northern Illinois University as well as graduate work at University of Illinois, University of New Hampshire and a fellowship at Northwestern University. In 2003 Deborah was in Quilt National and in Visions in 2018. In 2010 Deborah was asked to assist the host of CBS's television show, Extreme Home Makeover, in creating the art piece for the master bedroom project for the new house build in the east central Illinois area. The fall of 2011 Deborah was an Artist-in-Residence at the Mendocino Arts Center in Mendocino, California. In 2012 Deborah started teaching art quilt related courses at the University of Illinois through OLLI program. The winter 2012 issue of Art Quilting Studio featured Deborah's work on the front cover. In 2013 Deborah completed an Artist-in-Residence at the University of Illinois in Champaign, Illinois. Deborah was an Artist-in-Residence at the Nantucket School of Design and the Arts in the summer of 2016. Deborah completed an artist residency in Vermont in the fall of 2017. Deborah was the featured artist for the January 2017 Patchwork Professional in Germany, which featured an architectural series focusing on German architectural elements. Art exhibit openings in South Africa in 2014, Holland in 2015, and France and Cape Town in 2017, continue to strengthen Deborah's art visibility at the international level. Deborah's art quilt in Visions 2018 won the Quilts Japan Prize. In 2019, Deborah filmed four segments for the PBS show, Quilting Arts TV.
Artist Website: www.deborahfell.com
Instructional videos:
Classes:
16. Boro Reboot: A Mindful Practice (Session 3)
---
Deborah Griffing
Sunbury, OH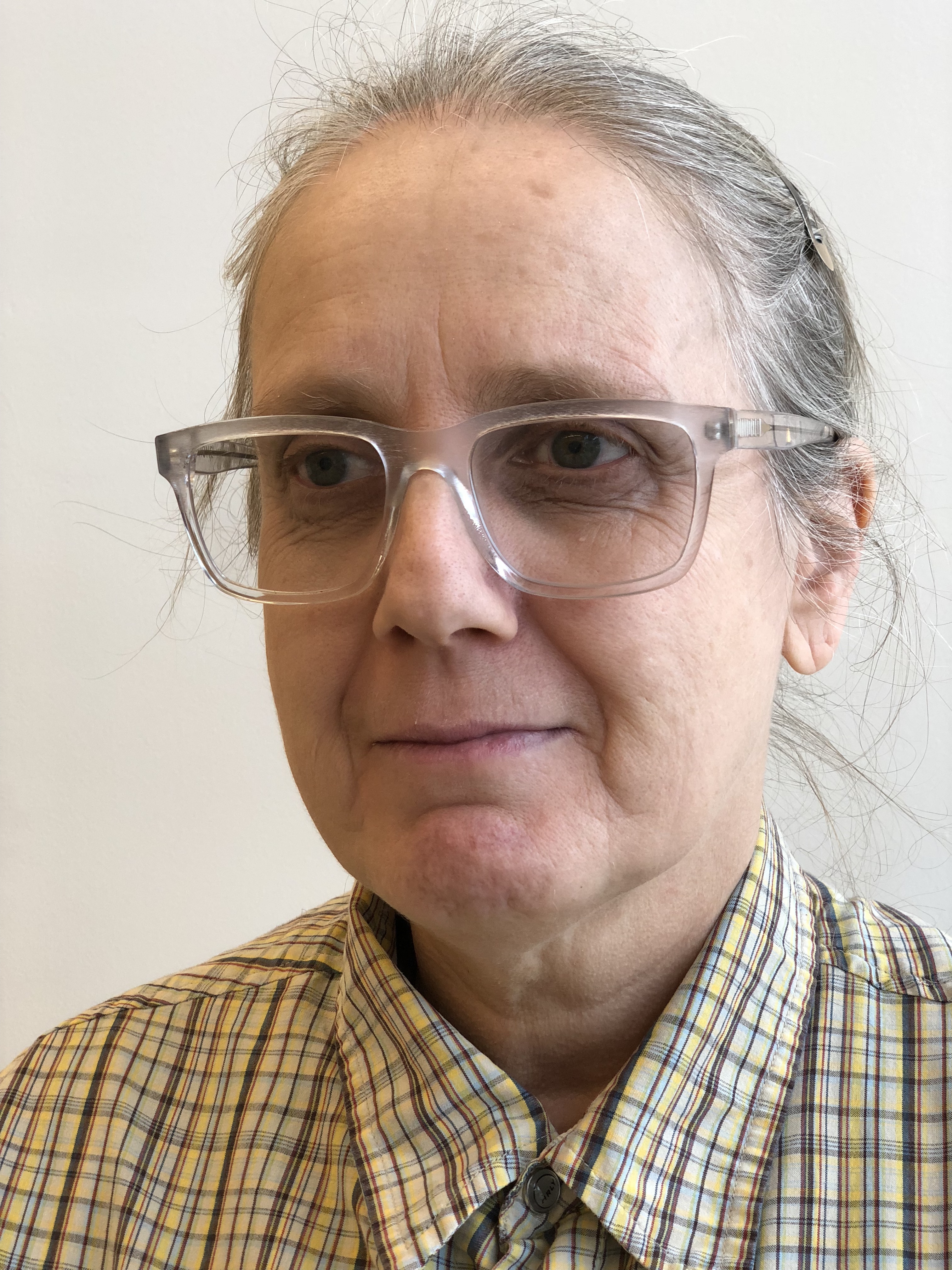 Deborah Griffing has two degrees from The Ohio State University: a Bachelor of fine Arts in ceramics and Master of Fine Arts in painting. She has been a visiting lecturer at OSU in the Fine Arts Program and has taught through the Ohio Arts Council As a Resident Artist in the Artist in Education program (AIE). Through this program, Deborah worked at Passion Works Studio in Athens, Ohio, where she made art dolls in collaboration with artists with disabilities. In 2005 Deborah joined Goodwill Columbus to develop an art studio for individuals with disabilities. The Goodwill Art Studio & Gallery is now a recognized arts program providing income and support for many artists with disabilities and other barriers. Deborah has shown her work in many galleries including The Dairy Barn Arts Center, the Vern Riffe Gallery, The Zanesville Museum of Art, and the Cultural Arts Center of Columbus. Deborah has won various awards for her work including the prestigious Ohio Arts Council Individual Fellowship in 2002 and 2013. She is published as a featured artist in the book, Cold Wax Medium, Rebecca Crowell and Jerry McLaughlin. Her work is included in the Permanent Collections of The Greater Columbus Convention Center. She was one of 39 central Ohio artists who was exhibited in Cuba during the 13th Havana Biennial in Matanzas, Cuba, part of the country's largest visual arts event. In the fall of 2019, the works will return to Columbus for a citywide exhibition called Cuba in Columbus. She has been a keynote speaker at: The Quilt Surface Design Symposium, 2016, The Columbus Cultural Arts Center, 2015, and The Ohio State University, Urban Arts Space, 2013.
When not working with artists with disabilities at the Goodwill Art Studio & Gallery, she works in her studio at home.
Artist Website: www.deborahagriffing.com
Instructional videos:
Classes:
3. Hand Stitching: Forming Discarded Fabric Into Intimate Sculptural Art (Session 1)
9. Colors, Textures and Imagery: An Experimental Approach to Painting (Session 2)
---
Becky Hancock
Edgewood, KY

I have always loved and been fascinated by beads, buttons, baubles, embellishments and shiny , sparkly stuff! I would make jewelry from found objects and scrap jewelry, then sell them from my front porch to the neighborhood kids. Even though I wanted to become a Marine Biologist I was always consumed by making things with artsy-craftsy kinds of materials. So after realizing that I didn't have the love I needed for the math classes required for an MB, I succumbed to the world of Arts and Crafts, got a BS in Recreation Therapy from ASU and taught the world that you could work through any problem in your life as long as you took time to "Get Your Crafty On!"
In 1994 I opened St Theresa's Textile Trove with my sister, Terrie Mangat. We incorporated this philosophy into our mission statement!! We have heard many of our beloved artists and creative souls say that their "soul was saved" at St Theresa's"! So come---get your Mojo into Bodacious Gear!!
Classes:
10. Trio of Mojonators (Session 2)
---
Amanda McCavour
Toronto, Ontario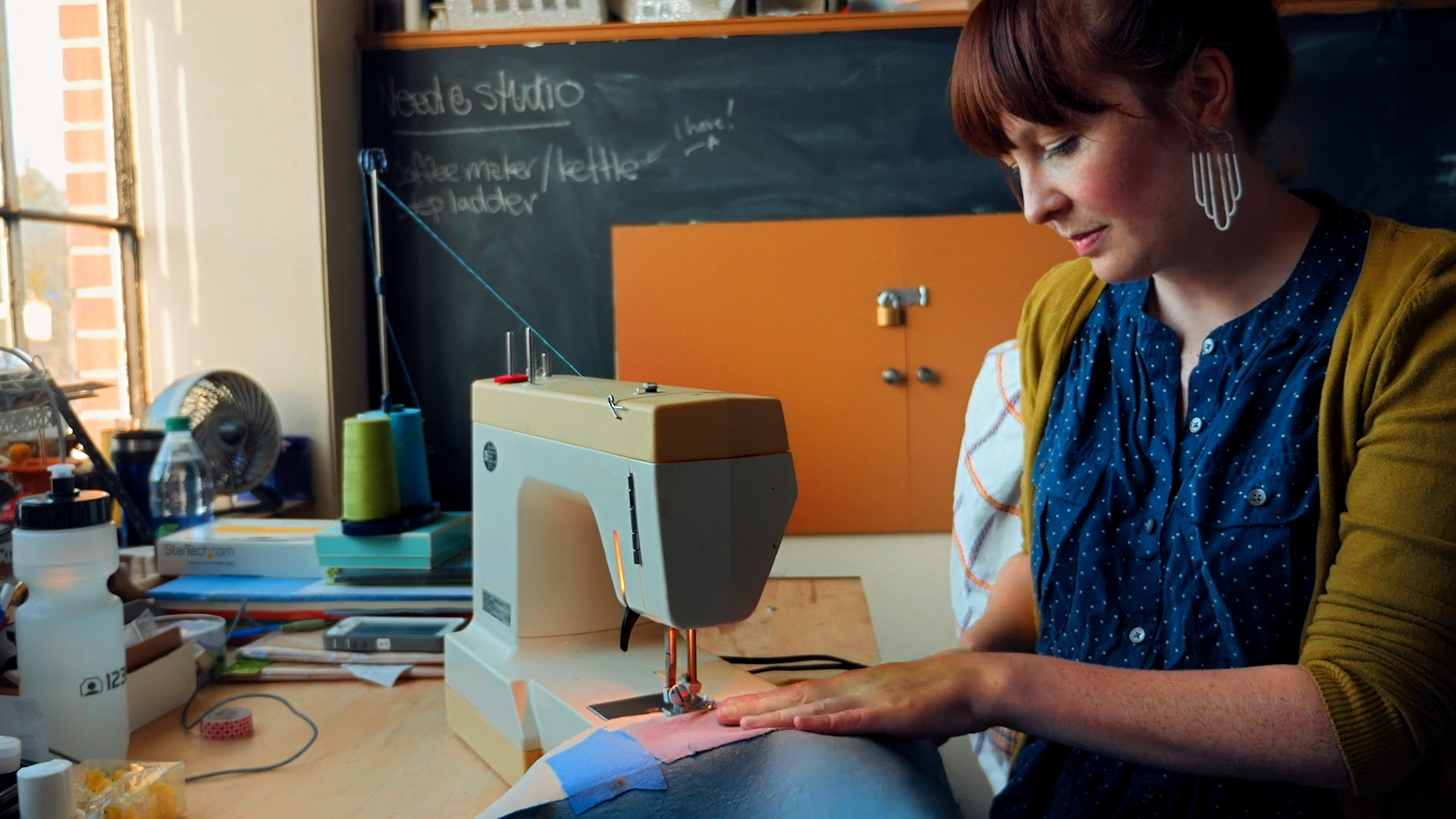 McCavour holds a BFA from York University where she studied drawing and in May 2014 she completed her MFA in Fibers and Material Studies at Tyler School of Art in Philadelphia, PA. McCavour shows her work in galleries nationally and internationally with solo exhibitions in 2018 in Tulsa (OK), Stratford (ON), Annapolis Royal (NS), Grande Prairie (AB), Antigonish (NS) and Edmonton (AB). She has recently completed residencies at Harbourfront Centre's Textile Studio in Toronto, at Maison des Métiers D'art de Québec in Quebec City and the Klondike Institute of Art and Culture in Dawson City, Yukon. She has received numerous awards and scholarships from The Canada Council for the Arts, The Ontario Arts Council, The Toronto Arts Council, The Handweavers and Spinners Guild of America, The Ontario Society of Artists, The Surface Design Association and The Embroiderers Guild of America.
Artist Website: www.amandamccavour.com
Instructional videos:
https://www.youtube.com/watch?v=FVYQ9CdwAS4
Classes:
17. Experimental Embroidery with Water Soluble Stabilizer (Session 3)
22. Embroidered Botany & Water Soluble Stabilizer (Session 4)
---
Clare Murray Adams
Southington, OH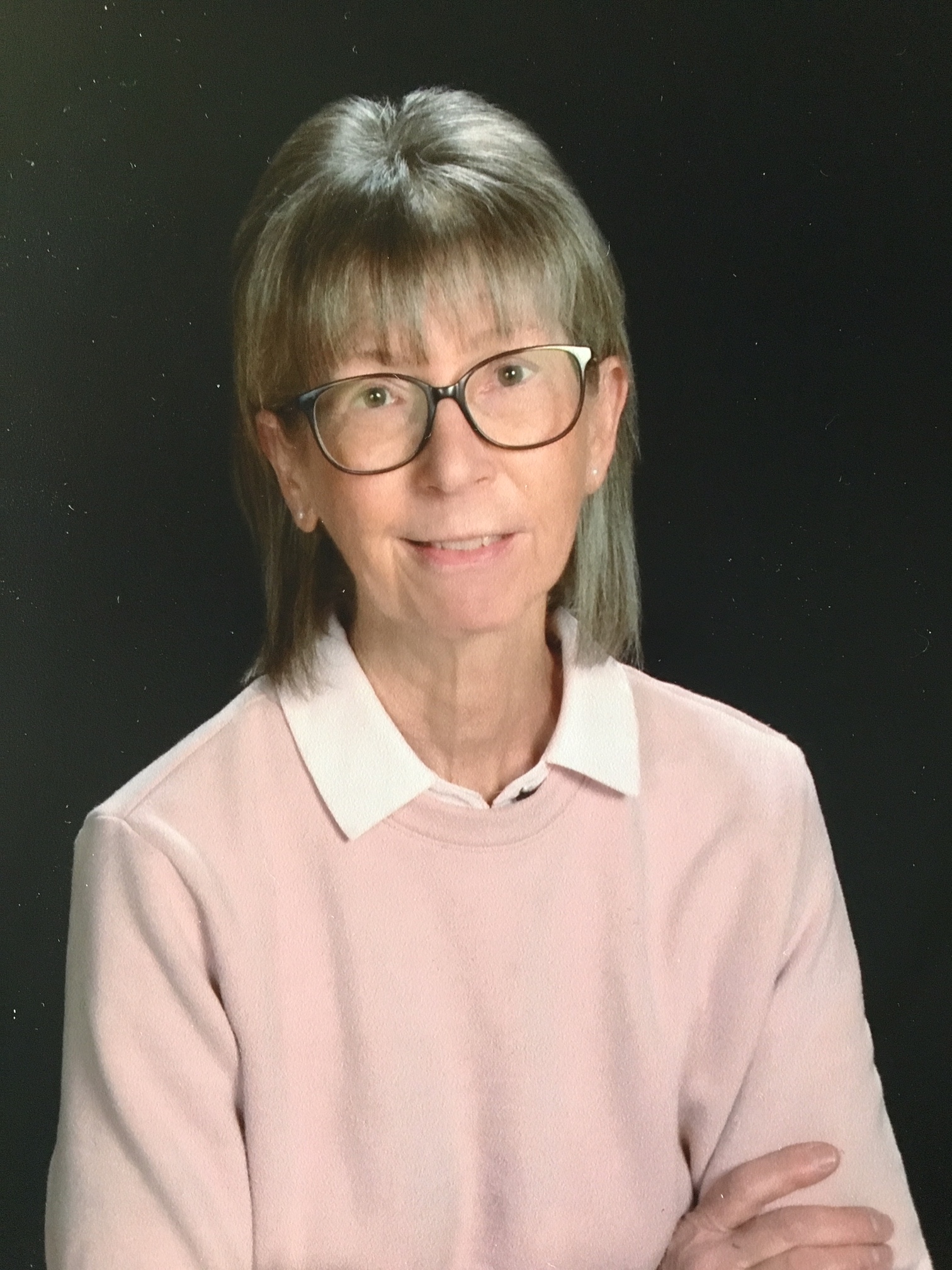 Clare Murray Adams was born in Canton Ohio. She received a BFA from Kent State University and an MFA from Vermont College. She is Professor Emeritus of Art and a former Chair of the Visual Art Department at Malone University in Canton, Ohio. She now lives in rural Southington Ohio where she maintains an active studio practice.
The Jentel Foundation awarded Clare a residency in 2005. During her month long stay she honed her encaustic painting skills. She received a grant from Arts-in-Stark in 2012 to create a community project that involved memory and in 2013 she participated in ArtPrize Michigan.
Clare currently teaches workshops in collage and encaustic painting and exhibits throughout the United States. The venues where she has shown include Quilt National in Athens OH and The Third Encaustic Invitational in Tucson AZ as well one person exhibits in Ohio, South Carolina, Michigan and California.
Artist Website: www.claremurrayadams.com
Classes:
1. Collage with Stitch (Session 1)
7. 2 day Collage with Stitch (Session 2) (This class is FULL)
---
Pat Pauly
Rochester, NY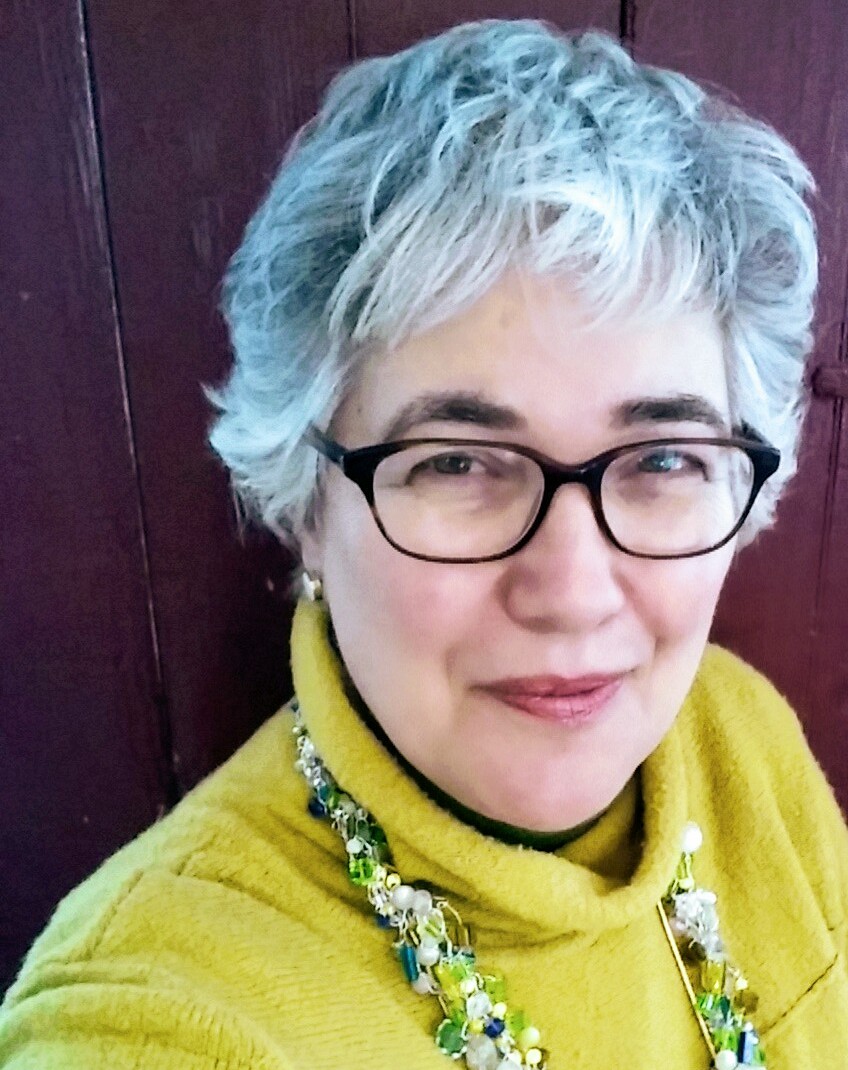 With a passion for sharing her work and methods of making art, Pat Pauly teaches workshops internationally that are always fast paced, energized, and fun. A sought-after lecturer and teacher in contemporary fiber arts, Pat Pauly demonstrates her wealth of knowledge from decades design work. Internationally recognized, her work evokes natural forms that are bold and graphic. Since the 1980s, her art quilts have been featured in numerous publications and exhibitions. With workshops that focus on design and technique, she helps students to know when to apply the rules, and when to toss them out. Pat Pauly's studio is in Rochester, New York.
Classes:
4. On Your Mark - Print! (Session 1) (This class is FULL)
11. Line, Shape, Setting (Session 2)
18. Go Big, Go Bold: Prints Galore (Session 3) (This class is FULL)
---
Judy Rush
Bexley, OH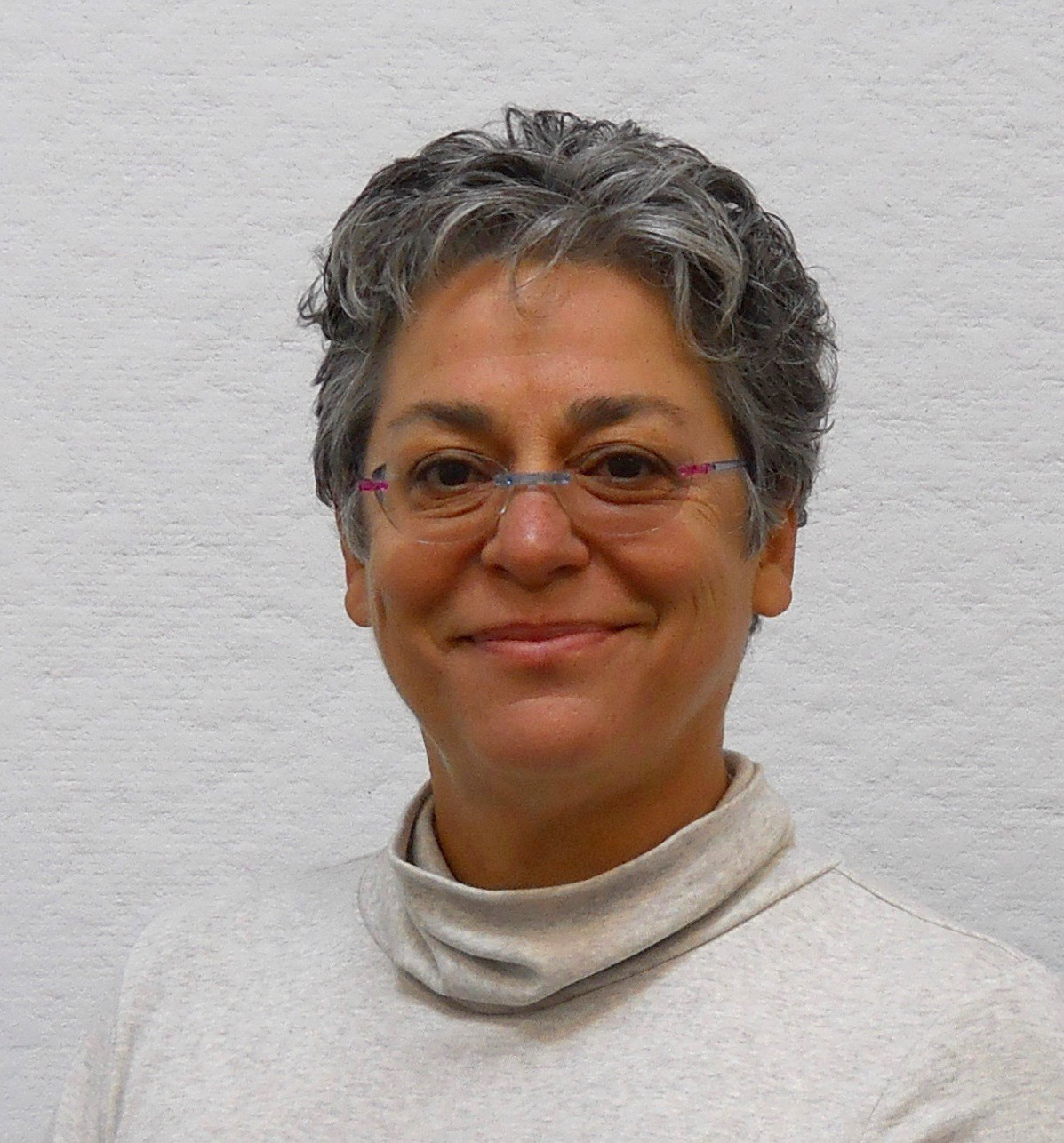 Judy Rush is a studio artist living in Columbus Ohio. She holds a BFA in Textile Design (University of Massachusetts) and MA Art Education/Computer graphics (The Ohio State University). She taught textile science and clothing construction for many years at Columbus College of Art and Design. Her textile science course was like art camp on steroids. Her students learned about textile science through making. She is an award winning artist who started her professional art career (2000) making art quilts. The first quilt she ever showed was accepted to Quilt National 2003. Her work has since made it into Quilt National 2007, 2009 (Jurors choice award) and 2011 (Quilt Surface Design International Award for Excellence in Fiber). She is a featured Artist in Art Quilts International: Abstract & Geometric, by Martha Sielman. You can see Judy's quilt work in the Columbus Convention Center and reproduced on the elevators of the Columbus Ohio downtown Hyatt Hotel parking garage.
Judy is captivated by the minutia of the world. Her quilts are made up of layers of fabrics that are cut to reveal hidden elements. At one point during the cutting and examining the layers, she realized she was mostly interested at the single element that creates the whole. How can a single unassuming and weak product (a single fiber) can become strong and powerful when combined with other like materials? During a residency to The Netherlands, she learned to wet felt. Wet felting expanded her interest in the strength and energy of the single element. She enjoys working with the single fiber to create wet felted creatures, environments and worlds. Her felt work has been shown at the "eXtreme Fiber Art" show in Springfield, MO, Cultural Arts Center in Columbus Ohio as well as numerous art other venues.
Classes:
19. Creature Development in Needle Felting (with Armature) (Session 3) (This class is FULL)
23. Creature Development in Needle felting (Session 4) (This class is FULL)
---
Jane Sassaman
Harvard, IL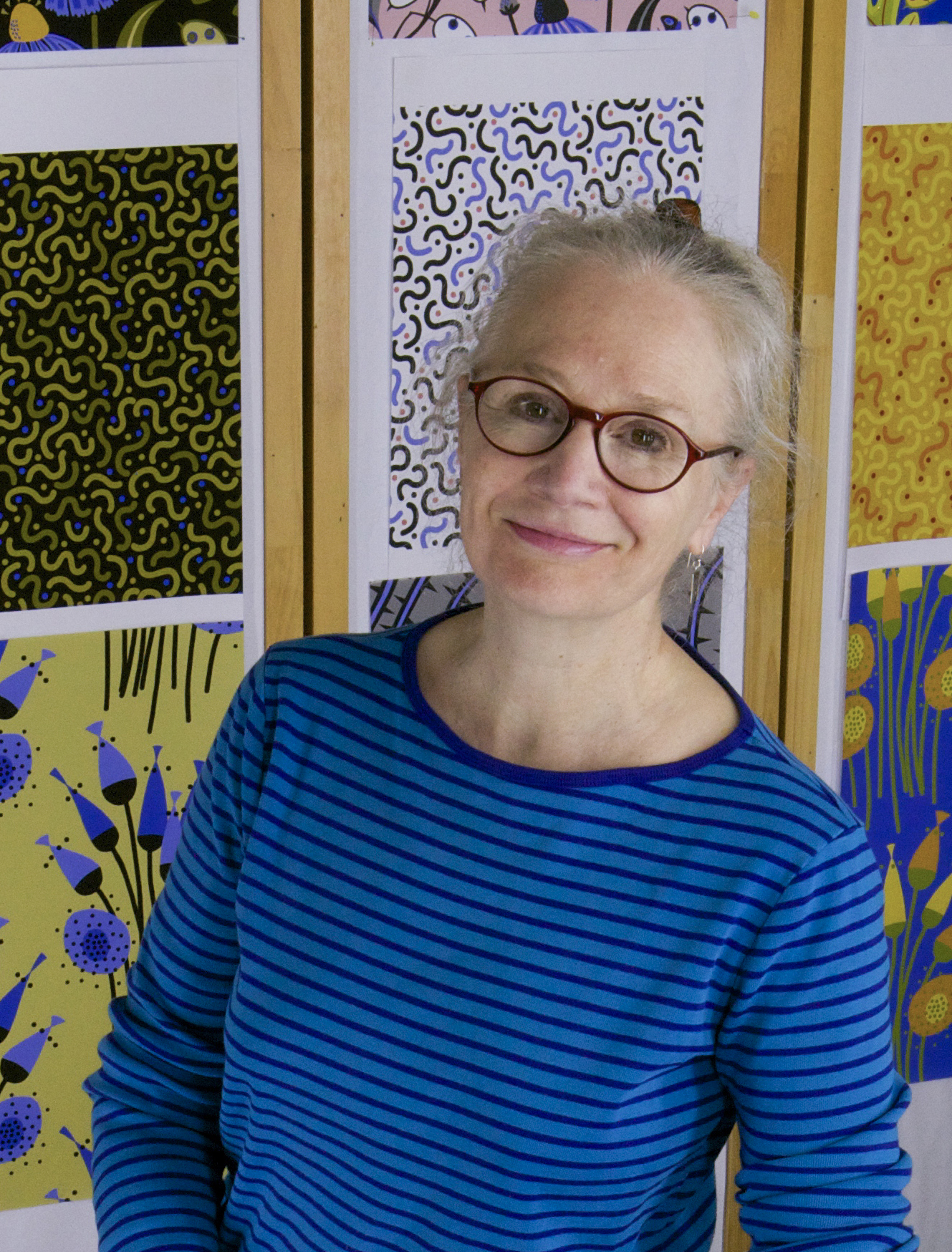 Jane began quilting in 1980. Since then her graphic quilts have been shown in many national and international exhibits. Her quilt "Willow" was named as One of the One Hundred Best American Quilts of the 20th Century. Jane is also the author of "The Quilted Garden", "Patchwork Sassaman Style" and "Color My Garden". Jane's love for historic decorative arts can be seen in all facets of her work, but it is especially evident in the exuberant fabric she is currently designing for FreeSpirit.
Artist Website: www.janesassaman.com
Classes:
5. Abstracting from Nature (Session 1)
12. Pattern Play (Session 2)
---
Maria Shell
Anchorage, AK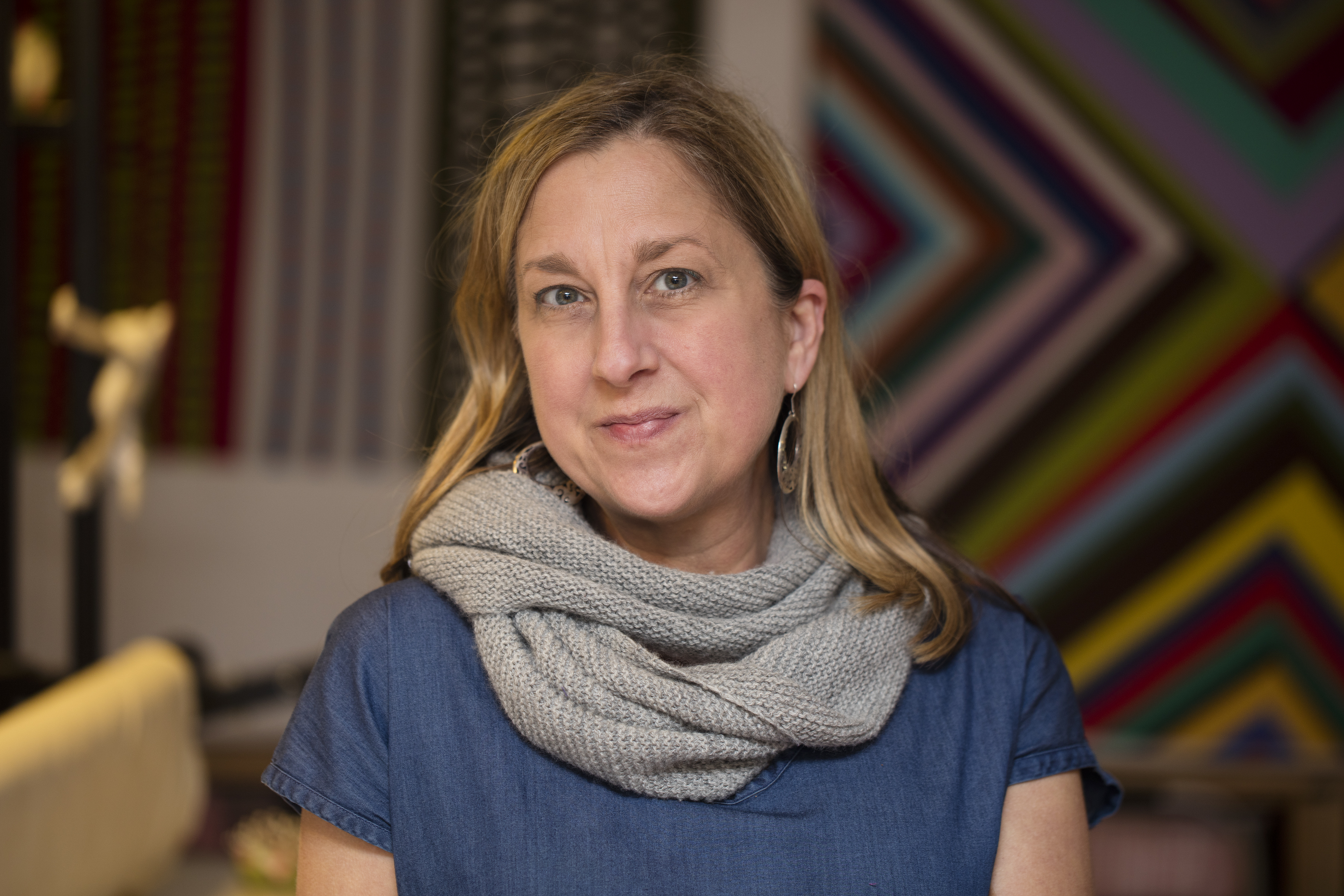 Maria Shell's work is grounded in the tradition and craft of American quilt making. She strives to take the classical components of a traditional bedquilt and manipulate them with the hope of creating surprising combinations of pattern, repetition, and color for the viewer.
Maria is the recipient of a Sustainable Arts Foundation 2011 Winter Award, a Rasmuson Foundation Project Award and two Rasmuson Fellowships (2009, 2013, 2017). She has had several solo and small group shows including fiber at the Fitton Center for Creative Arts in Hamilton, Ohio, Right Lines & Circles at the Ormond Beach Memorial Art Museum and Gardens in Ormond Beach, Florida, and Line + Shape at the Hello Stitch Studio in Berkeley, California, and The Pieced Canvas at the Visions Art Museum in San Diego, California. Her first book Improv Patchwork—Dynamic Quilts Made with Line & Shape was published in 2017.
Artist Website: www.mariashell.com
Instructional Videos:
https://www.youtube.com/watch?v=YarTHxylOjY/a
https://www.youtube.com/watch?v=xy2bX9CV2To
Classes:
6. Big Botany—Abstraction Through Color, Pattern, And Repetition (Session 1)
13. Circle & Curve Sampler (Session 2)
---
Kevin Womack
Forest, VA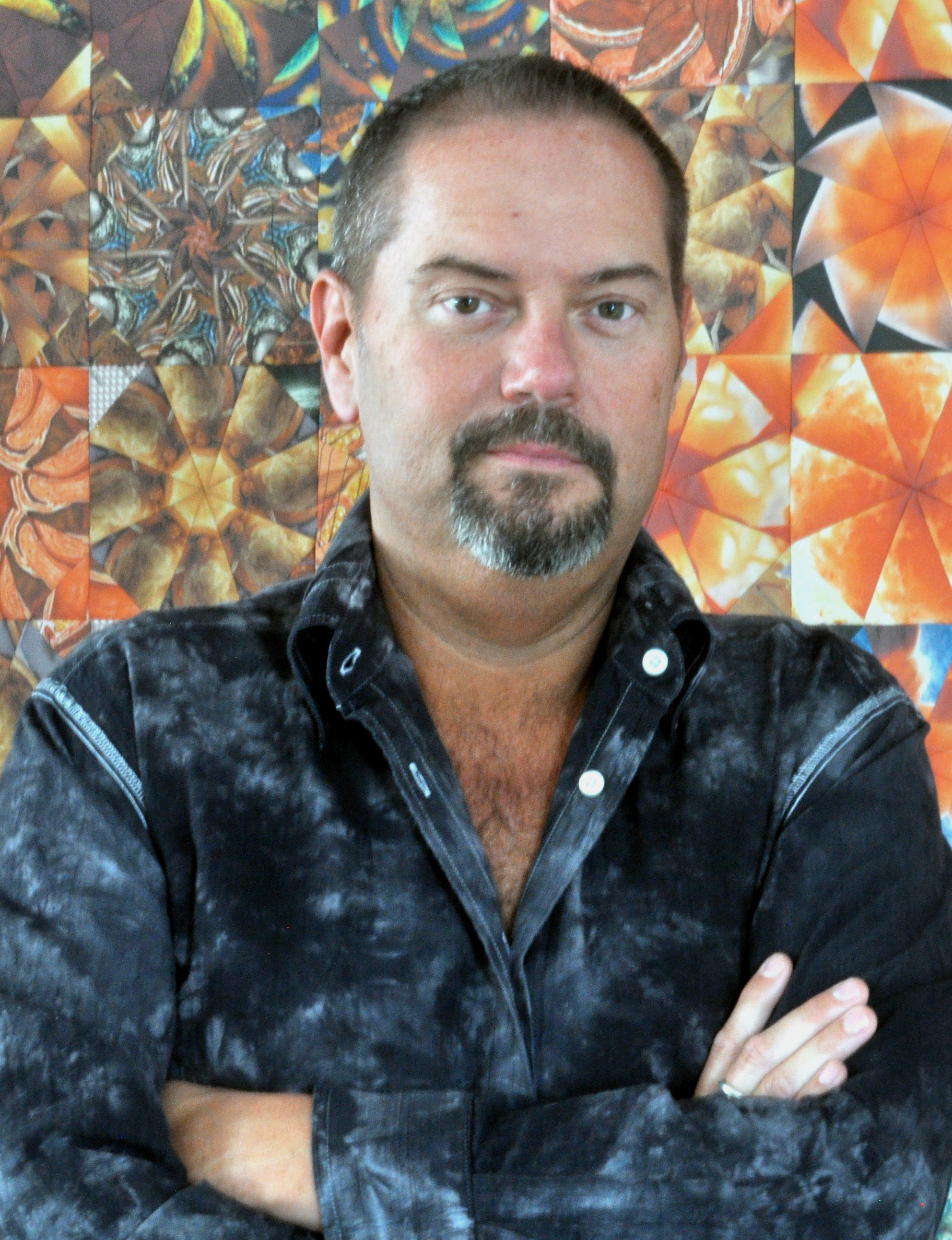 Kevin Womack is a textile artist living in Lynchburg, Virginia. In 1986, he was introduced to quilting by his maternal grandmother. Having always loved the legacy of family quilts, he decided to have her teach him the tradition. He was hooked from the first moment and continues producing quilts and quilt art today. Kevin has studied with many accomplished textile artists and developed a love for hand dyeing and patterning fabrics with surface design techniques. His experiments produce a line of unique fabrics and clothing that he exhibits and sells. Kevin also teaches and lectures nationally.
Classes:
14. Printing Possibilities (Session 2)
20. Color Explorations (Session 3)
24. Surface Design Shuffle (Session 4)
---